geschrieben von
Kategorie: Blog
am 23. January 2010
Dear People.
2010 has started, The big Otter has landed, and shines its bright Light on all SPURV LAERKES around the world!
In 2010 SPURV LAERKE will continue to play shows to support their debut album "ON THE BRINK OF THE BIG OTTER" which was released in the fall of 2009.
If you want to buy your own rainbow coloured copy, come to a show, or click the album cover below!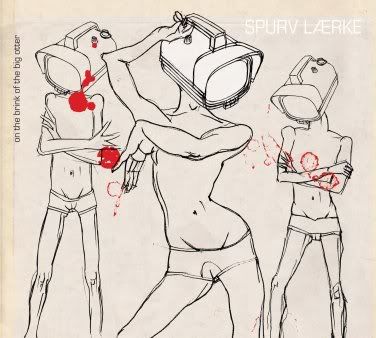 Some of you have seen/listened/danced along with us to our electro-themed shows this past year. And because it has been such a positive and fun journey, we have decided to do our own REMIX ALBUM with guest remixes (still a secret) and release it this year!
To get an impression of what a remix album could sound like, please visit our youtube channel.
We're totally exited and will keep feeding you with details, as the wholesome spectacle develops.
For regular updates you can follow us on Twitter or find us on Facebook.
In the making right now is a live video from the KOMM disco party where we played our electronic show on the 27′th of November 2009, covered in visual lights from Till Heim. (Via Grafik)
While waiting for the video, have a look at some pictures from the party made by Henning Stephan (pics below)
Thanks to Anna Bella Konstantares for making the dress Kristina wore on stage.
Also thanks to the organizers and the Dj's who made this possible.
And thanks to all of you, lovely concert dancers, for making this evening unforgettable for all of us!!